Updating Your Swimming Pool with Limestone Landscaping to Keep Up With the Times
Swimming pools aren't just a great way for a family to enjoy a summer together – they can be a valuable asset to a home, often adding 5 figures to the price of a property. In the past, the majority of pools were built with one priority in mind; functionality. These days, and due to the wide variety of natural materials like limestone pavers available, it can still be possible to obtain functionality, but in a way that enhances the aesthetic appeal of the pool itself. Modern trends in pool landscaping seem to be leaning more toward a luxury appearance – and here's a guide on how you could update yours.
Replacing concrete with rocks and flagstones
It's not uncommon to see the more traditional pools designed years ago featuring concrete walkways – and in an effort to remove the mundane finish of the material, many designers opted to 'carve' the appearance of stonework into the surface while the cement was drying. The benefit of this was that concrete is a very durable material – but as it won't fully absorbed colours, it will typically only retain colour and intentional staining for a number of years.
After this, the colours can fade, resulting in a bland finish that can cost thousands of dollars to touch up. A more modernised solution is to have natural limestone flagstones installed as a floor surface. These naturally formed rocks are sealed with resins and can be stained or left to display their natural aesthetic. Unlike concrete which can expel colour over time; flagstones retain their tone throughout, allowing them to boast their unique hues no matter how much time they spend in sunlight.
Installing natural features
Older pool styles often featured their structure, a set of steps and then surrounding flooring. Although the more common sight, more and more people are looking for ways to make their swimming areas take on a natural appearance. A good way to do this is by installing trees such as palms, shrubs and ferns that can survive in even the warmest of climates.
The appearance can emanate the natural aesthetic typically seen by lakes and riversides, but instead of the flora relying on the water from the pool, they can be installed close enough to blend in with the design, but with their own source of soil which can be watered. Another benefit of this modern trend is that where fences and walls often require planning permission; the implementation of trees around a water feature can go ahead with little if any legal input needed or install The Temporary Fencing System with all the Advantages – from ReadyFence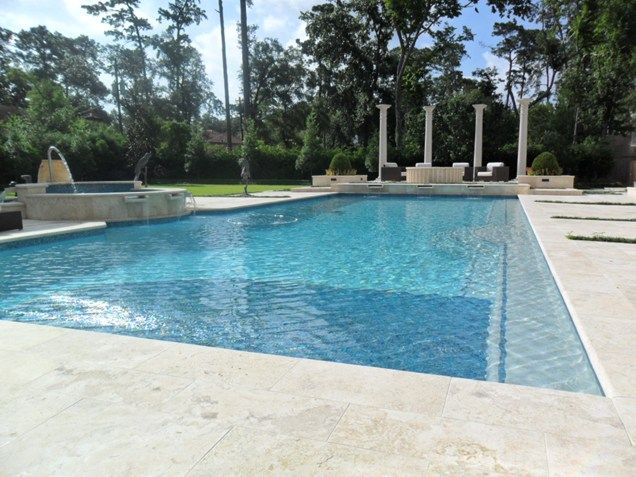 Other modern ideas and trends relate to installing infinity features, where runoff is simply recycled and reused within the pool. Then there's the option to add rock features; which can often incorporate slides, as well as seating areas, diving boards and other exciting solutions that a good swimming pool design agency should be able to help with.